The US Department of Agriculture says there should be no concern about safety of food supply after discovery of
BSE
Bovine Spongiform Encephalopathy
(
BSE
), commonly known as
mad-cow disease
, is a fatal
neurodegenerative disease
in
cattle
that causes a spongy degeneration in the
brain
and
spinal cord
. BSE has a long
incubation period
, about 30 months to 8 years, usually affecting adult cattle at a peak age onset of four to five years, all
breeds
being equally susceptible.
[1]
In the
United Kingdom
, the country worst affected, more than 180,000 cattle have been infected and 4.4 million slaughtered during the eradication program
[2]
The disease may be most easily transmitted to human beings by eating food contaminated with the brain, spinal cord or digestive tract of infected carcasses
A newly discovered case of mad cow disease in a US dairy herd apparently arose from a one-off mutation that was picked up during random surveillance at an abattoir in California.
The animal was tested as part of a regular inspection programme organised by the US Department of Agriculture that examines tissue from 40,000 slaughtered cattle each year.
Dr John Clifford, the USDA's chief veterinary officer, said the department was continuing its investigation of the case, but added "there should be no concern … about the safety of our food supply."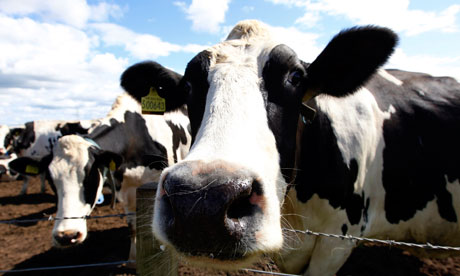 After the announcement of a new case of BSE in California, the two grains were slightly lower in Chicago.
Conservative, investors put aside in favor of indicators on the rise.
Prudence flat at the Chicago Stock Exchange.
Since the announcement of
a fourth case of bovine spongiform encephalopathy
(BSE) on dairy cow from central California, the operators avoid risk-taking on the grain consumed by cattle.
In Focus: corn and wheat.
Tuesday night, a bushel of corn (about 25 kg) for May delivery fell slightly to 6.1825 dollars against 6.2250 dollars at the close Monday.
In its wake, a bushel of wheat at the same maturity has come to equilibrium at 6.2450 dollars.
"The impact was relatively limited because markets reflect about the U.S. Department of Agriculture under which the risk of human transmission is impossible," cautions Benjamin Louvet, responsible for managing commodity in Prim'Finance.
Tight supply
The announcement of a new case of BSE, nine years after the first, however, completely overshadowed the positive indicators on the rise.
Starting with the order of 480,000 tonnes of maize by an unknown buyer.
The rumor ran that market was confirmed by the U.S. Department of Agriculture (USDA) and the operators believe that this is China.
Moreover, concerns about the weather in the U.S. grow while warm spring temperatures have given way to cold.

Expected frosts in wheat growing areas and can damage corn crops.

Finally, the wheat would benefit from the wrong recordings of Ukraine, and large wheat-producing competitor of the United States.
source lefigaro bourse translated from French to English.