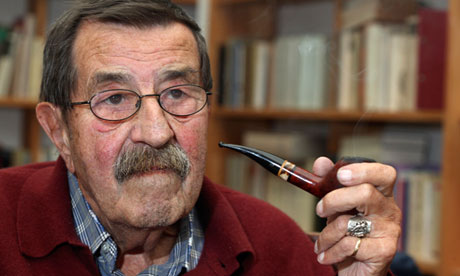 The new collection of 87 poems is being released in time for Grass's 85th birthday on October 16. But this time, Israel is not the only one that could take offense to Grass's writings. The writer also has a go at the Catholic Church that no longer condemns masturbation as a severe sin: "Even our Pope can now do without shame what he has done from early on: We see him smiling, liberated, freed from sin…"
(JTA)

— Gunter Grass, Germany's Nobel Prize-winning author, has published another poem criticizing Israeli policy.
The poem also praises

Mordechai Vanunu

, who served 18 years in prison after being convicted in 1988 of treason and espionage for leaking Israel's nuclear secrets to the British newspaper the Sunday Times of London.
The poem, called "A Hero in Our Time," is part of a new book of Grass' poems, "Eintagsfliegen," released in Germany on Saturday.
In the poem, Grass calls Vanunu a "modern-day hero" and writes that "heroes such as that are needed in the world, which utters words of peace while planning destruction." The poem traces Vanunu's life story.
A Grass poem published in April in Germany's Suddeutsche Zeitung newspaper and other international papers claimed that Israel was endangering world peace by threatening Iran. The poem, titled "What Must Be Said," also condemned the German government of Chancellor Angela Merkel for agreeing to subsidize the sale of additional submarines "from my country" to Israel "justified as reparations."

More at source