But the flash mobs, which are more accurately called "race riots" or "racial mob violence," are not the only interesting topic to cover in our national conversation about race. There is also the "knockout game," which is stunning in its brutal simplicity and stark racial significance.
The knockout game involves "
unprovoked attacks on innocent bystanders
," according to police who have had to deal with it. A retired officer explained, "Normally it was a group of black males, one of which would strike him as hard as he could in the face, attempting to knock him out with one punch," says retired Sgt. Don Pizzo. The victims are typically
not robbed
, but simply punched with no provocation.
Such attacks
have been reported in Illinois, Massachusetts, Missouri, and
New Jersey
.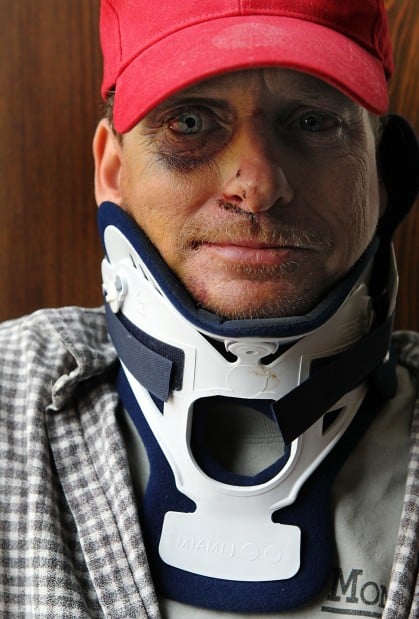 The knockout game has claimed at least one life so far. In St. Louis this year, 72-year old Hoang Nguyen was walking with his wife, Yen, when four "young people" attacked. The attacker pushed the old man's face to the side to make a "
clear target for his fist
," recalled his wife. Nguyen was punched so hard that he fell to the ground and struck his head. Then the attacker turned on Nguyen's 59-year-old wife, punching her so hard that she suffered a broken eye socket. She could only watch as her husband was then kicked repeatedly. Hoang succumbed to his injuries later that day. A
young black male
, 18-year-old Elex Murphy, is charged with first-degree murder.
In addition, a mob of young black males can be seen
playing the game here
. The video shows the group attacking a young white man named Adam Taylor, who was left with
internal bleeding
, bruising of the brain, severe whiplash, and scratches on his face when he was beaten in Columbia, MO in 2009.
Sgt. Pizzo noted that the attacks fit a pattern: "black attackers on a white victim — and the victim was often an older person walking alone." In a
thorough and sensible piece
on the subject in a local arts and entertainment magazine, eight of the victims interviewed were white, one was black, and one was Latino. All of the attackers, or "players," were black. Some witnesses claim that they have white relatives who play the game and that therefore the game is not a racial issue. But anyone who reviews the reporting — when race is revealed, at least — will see that the attackers are predominantly if not exclusively black.
As one
player of the game says
, "[w]e used to walk to where a lot of people be at and hit 'em. If one of the homeboys didn't knock him out, then the other would come. Whoever knock him out would be king."
Video | News | Weather | Sports
Fri Mar 15 19:08:48 PDT 2013
Graphic video captures brutal Marigny attack
A Marigny man is still recovering in the hospital after being beaten and hit with bottles walking home.
view full article
Local media outlets have failed to report on the racial aspect of the attacks. At best, the media will allow the race of attackers to be revealed by mugshots, or quotations from police or victims. This follows a conscious policy of self-censorship that has been openly admitted by major newspapers.
Short URL: http://www.newsnet14.com/?p=126474