BISMARCK, N.D. —
Vandals struck Craig Cobb's house and two vehicles parked outside early Sunday morning, targeting white separatists who plan to take over the small town of Leith.
The vandalism occurred at about 1:30 a.m. and is under investigation by the Grant County Sheriff's Department, Deputy John Foss said.
Cobb, a neo-Nazi and hate crimes fugitive from Canada, has attracted strong opposition since he moved to Leith and purchased property to start an all-white enclave. The town has 24 residents.
In nearly three months of heightened emotions, it is the first time the tension has escalated to vandalism, Foss said.
Cobb was not home at the time, but Kynan Dutton, a member of the National Socialist Movement, said his wife, Deborah Dutton, and five children were sleeping when Alfred Borgmann, another of Cobb's followers, alerted them to the activity outside the house.
Dutton said he'd conducted his nightly patrol of Leith earlier that evening and because all was quiet, he concluded that nothing would occur.
Instead, Dutton said, five tires on two vehicles were slashed and vandals spray painted obscenities on his and Borgmann's vehicles. Vandals also spray painted the words "back in black" on Cobb's house and the vehicles.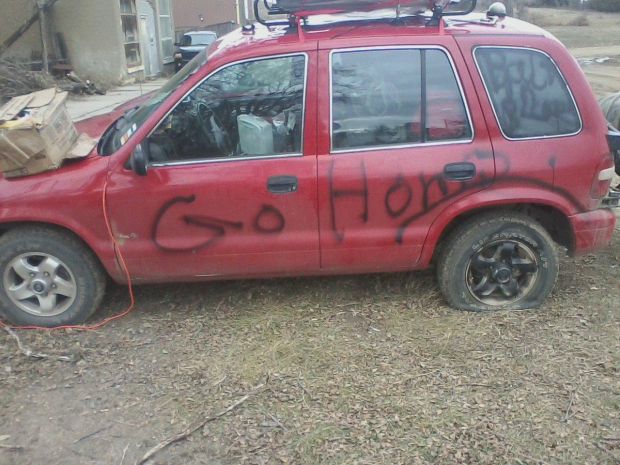 Dutton said he saw three men and a woman jump into a dark blue extended cab pickup and speed off, leaving full and empty beer cans on the property.
Dutton said the vandalism was childish and not something his group would stoop to.
"I'm assuming this is only going to get worse," Dutton said. "We're supposed to be the hateful ones, yet we're getting hated on," he said.
thank you Craig Wyss