Venezuela court barsrival from taking office
Judges uphold ban on presidential hopeful Leopoldo Lopez despite ruling by inter-American human rights court
Venezuela
's supreme court has barred a rival to President
Hugo Chávez
from taking office – but told him that he is still eligible to stand for election.
The decision throws into doubt the presidential campaign of Leopoldo Lopez, a prominent opposition leader.
The court dismissed as "unfeasible" a decision issued last month by the inter-American court of human rights, based in Costa Rica, that demanded Venezuelan electoral officials allow Lopez to run for office.
The former Caracas district mayor was on a list of politicians blacklisted due to corruption investigations but insists he is innocent and was never sentenced in a court.
Rómulo Betancourt

(President 1945-1948/1959-1964), one of the major democracy activists of Venezuela.
The military dictator Pérez Jiménez was forced out on 23 January 1958.

[2]

In an effort to consolidate the young democracy, the major political parties (with the notable exception of the

Communist Party of Venezuela

) signed the

Punto Fijo Pact

. Democratic Action and

COPEI

would dominate the political landscape for four decades. The 1960s saw substantial guerilla movements, including the

Armed Forces of National Liberation

and the

Revolutionary Left Movement

, which had split from Democratic Action in 1960. Most of these movements lay down their arms under

Rafael Caldera

's presidency (1969–74); Caldera had won the

1968 election

for

COPEI

, being the first time a party other than Democratic Action took the presidency through a democratic election.
The supreme court president, Luisa Estella Morales, told reporters that Lopez "can freely sign up and participate in elections" including next year's presidential vote, but whether or not he could actually take office if elected "isn't within the judicial branch's analysis at this time".
If Lopez were elected president the supreme court would have to decide what to do at that time, Morales said.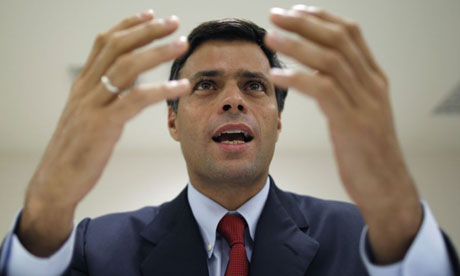 Lopez challenged his disqualification in the regional human rights court, arguing that his political rights were violated. That court ruled in his favour on 1 September.
Venezuela's supreme court responded that the measure barring Lopez from holding public office "does not impede him from exercising his political rights,
Lopez has announced plans to run in a February primary vote that will pick a unity candidate to challenge Chávez in the October 2012 election. When Lopez launched his campaign last month he challenged Chávez to accept him in the race, implying that the president wielded influence over the judiciary.
Chávez strongly criticised the Costa Rica-based court, saying it was part of an international system that "protects the corrupt and obeys the mandate of the [US] imperial power".
A coalition of Venezuela's main opposition parties, known as the Democratic Unity Table, condemned the supreme court ruling, saying in a statement that it violated the constitution as well as international treaties and promising to take the matter to the Organisation of American States.
more