Most license plate-related news revolves around right-wingers trying to push some ultra-conservative message. Mississippi's Sons of Confederate Veterans, for example, lobbied for plates honoring
KKK leader
Nathan Bedford. Texas Governor
Rick Perry
found himself embroiled in controversy over Confederate Flag plates in the Lone Star State, while a volunteer for
Tim Pawlenty
, the first candidate to drop out of the 2012 race, tried — and failed — to raise awareness for the former Minnesota governor by riding around with a T-Paw license plate.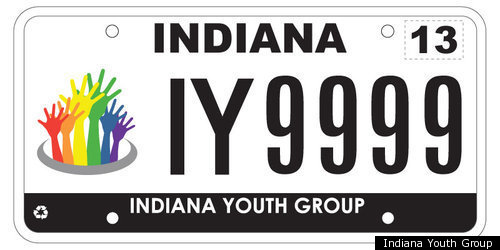 Now there's a license plate for liberals, for the pro-LGBT group
Indiana Youth Group
just started selling a queer-inclusive vanity. The plates will feature the group's logo, six hands shaded in the rainbow flag's various colors, and cost $40, 25 of which go directly to the group.
My friend Bil Browning at
Bilerico
provides some more details:
The Indiana Youth Group applied for the plate twice before but was denied. Indiana's chapter of the American Civil Liberties Union sued the state, but lost after the state claimed the group "failed to show its services have a statewide impact."
I just spoke to Indiana Youth Group executive director Mary Byrne and she told me that Indiana's BMV actually settled that case with the stipulation that if they reapplied they "would most likely" be approved. Why was it initially rejected? Well, according to the Hoosier State, Indiana Youth Group failed to meet a few requirements. The long list includes gathering 500 signatures and specifying how the money will be used, though there's no indication of how the money should be used.
The motivation for selling this license plate, however, was not simply about raising money: Byrne told me the group wanted to shed light on the lack of transparency in the process. For example, even if a group fills in the required paperwork and gathers the signatures, as Indiana Youth Group did, there's another step that happens behind closed doors, one that's hidden from the public. The implication, of course, is that political leanings and preferences come into play.
Get link

Facebook

Twitter

Pinterest

Google+

Email

Other Apps