US Troops going to Israel for unspecified amount of time, as Israeli Forces are added to EUCOM
In one of the most blacked-out stories in America right now, the US military is preparing to send thousands of US troops, along with US Naval anti-missile ships and accompanying support personnel, to Israel. It took forever to find a second source for confirmation of this story and both relatively mainstream media outlets are in Israel. With one source saying the military deployment and corresponding exercises are to occur in January, the source providing most of the details suggests it will occur later this spring.
Calling it not just an "exercise", but a "deployment", the
Jerusalem Post
quotes US Lt.-Gen Frank Gorenc, Commander of the US Third Air Force based in Germany. The US Commander visited Israel two weeks ago to confirm details for "the deployment of several thousand American soldiers to Israel."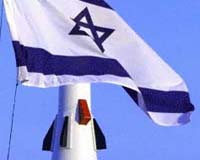 Also confirming the upcoming US-Israeli military missile exercises is
JTA.org
- 'global news service of the Jewish people'. In their account, they report, 'Last week, plans for Gen. Martin Dempsey, the chairman of the U.S. Joint Chiefs of Staff, to visit Israel in January were leaked to Israeli media; his visit likely will coincide with the largest-ever joint U.S.-Israel anti-missile exercise'.
While American troops will be stationed in Israel for an unspecified amount of time, Israeli military personnel will be added to EUCOM in Germany. EUCOM stands for United States European Command.
In preparation for anticipated Iranian missile attacks upon Israel, the US is reportedly bringing its THAAD, Terminal High Altitude Area Defense, and ship-based Aegis ballistic missile systems to Israel. The US forces will join Israeli missile defense systems like the Patriot and Arrow. The deployment comes with "the ultimate goal of establishing joint task forces in the event of a large-scale conflict in the Middle East"
more at source
thank you Kevin