Impact of EPA's Regulatory Assault on Power Plants: New Regulations to Take 33 GW of Electricity Generation Offline and the Plant Closing Announcements Keep Coming…
More than 33 gigawatts (GW) of electrical generating capacity are now set to retire because of the Environmental Protection Agency's (EPA) Mercury and Air Toxics Rule (colloquially called Utility MACT)
[1]
and the Cross State Air Pollution Rule (CSAPR)
[2]
regulations. Most of these retirements will come from coal-fired power plants, shuttering nearly 10 percent of the U.S.'s coal-fired generating capacity.
This report
is an update of a report the
Institute for Energy Research (IER) issued in October 2011
.
[3]
In the original report, we calculated that 28 GW of generating capacity would close as a result of EPA's regulations. At the time, we warned that "this number will grow as plant operators continue to release their EPA compliance plans." Unfortunately, this statement has proven to be true. This update, a mere four months later, shows that over 33 GW of electrical generating capacity will close—nearly a 5 GW increase.
According to EPA, their modeling of Utility MACT and CSAPR indicates that these regulations will only shutter 14.5 GW of electricity generation capacity. But events in the real world already show that EPA's modeling is a gross underestimate.
To calculate the impact of EPA's rules, we first assumed that EPA's modeling was correct. Then, we looked at statements, filings, and announcements from electrical generators where the generators were closing power plants and citing EPA's regulations as the precipitating cause of the plant closures. We then compared EPA's modeling outputs with the announcements and created a master list of plant closures as the result of EPA regulations (the master list is below).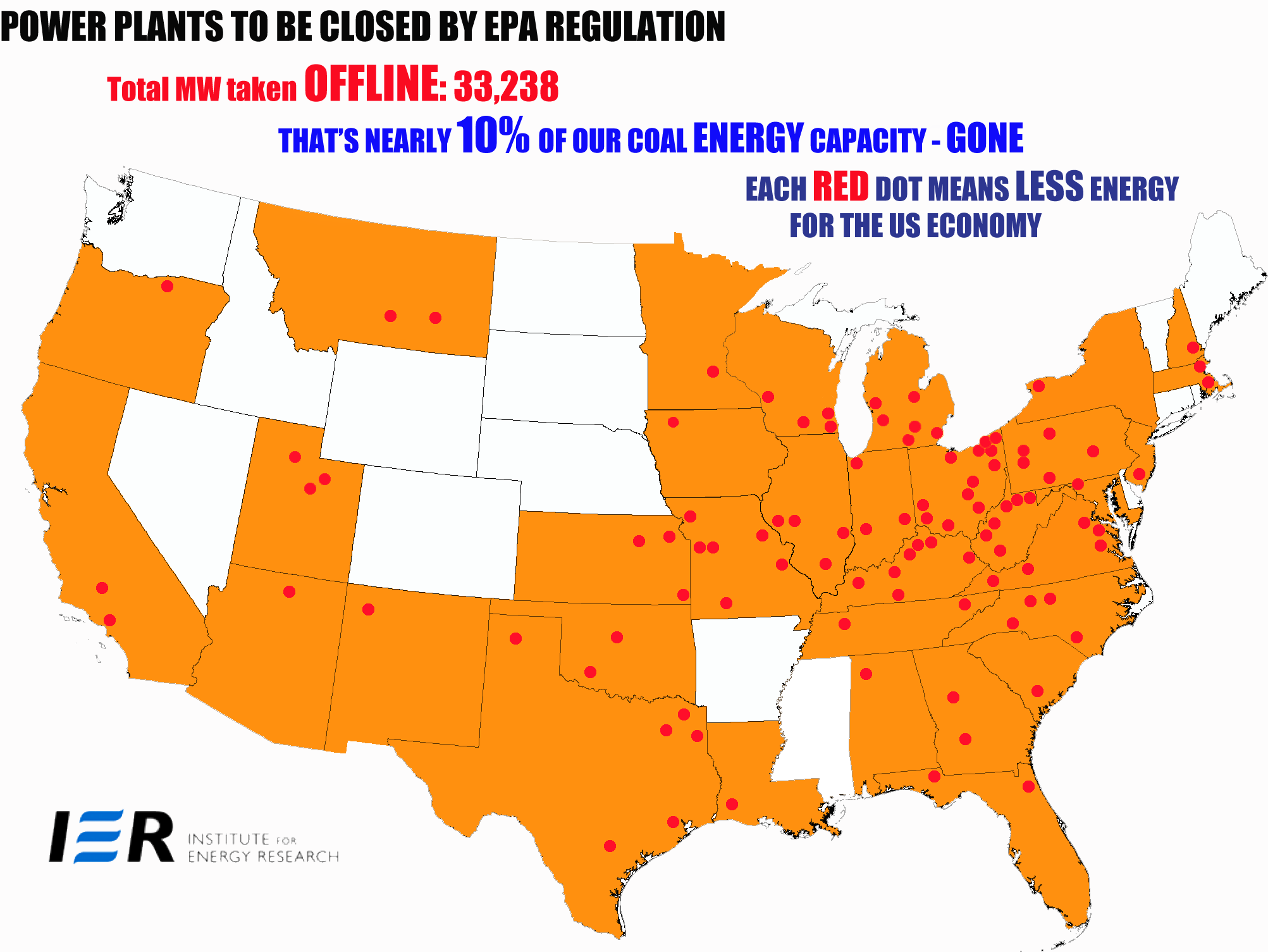 Combining actual announcements with EPA's modeling shows that EPA's modeling grossly underestimates the actual number of closures. As noted above, EPA calculated that only 14.5 GW of electrical generating capacity would close as a result of its rules. But the reality is that over 33 GW of power generating capacity will close—over twice as much as EPA's modeling predicted. Worse, as utilities continue to assess how to comply with EPA's finalized Utility MACT rule and CSAPR, there will likely be further plant closure announcements in the coming weeks and months.