1976, Monsanto announced plans to phase out
production of polychlorinated biphenyl (PCB).
In 1979 a lawsuit was filed against Monsanto and other manufacturers of agent orange, a defoliant used during theVietnam War. Agent orange contained a highly-toxic chemical known as dioxin, and the suit claimed that hundreds of veterans had suffered permanent damage because of the chemical. In 1984 Monsanto and seven other manufacturers agreed to a $180 million settlement just before the trial began. With the announcement of a settlement Monsanto's share price, depressed because of the uncertainty over the outcome of the trial, rose substantially.
Also in 1984, Monsanto lost a $10 million antitrust suit to Spray-Rite, a former distributor of Monsanto agricultural herbicides. The U.S. Supreme Court upheld the suit and award, finding that Monsanto had acted to fix retail prices with other herbicide manufacturers.
EPA provides various paths for the public to access information about PCBs. On this web site you will learn about PCBs as they are managed under the Toxic Substances Control Act (TSCA) and the PCB regulations found at 40 CFR 761. This site focuses on the management, cleanup and disposal of PCB wastes and the management of PCB-containing materials and equipment still in use. If you have any questions about site specific PCB issues, see the EPA Regional Contacts page.
Learn about PCBs - Find information about the commercial use of PCBs, common PCB trade names (e.g., Aroclor), and PCB congeners. In addition, learn about the release and exposure, as well as the health effects of PCBs.




Learn about the laws and regulations that govern PCBs - PCBs are regulated under TSCA. TSCA bans the manufacture, processing, use and distribution in commerce of PCBs. TSCA gives EPA the authority to develop, implement and enforce regulations concerning the use, manufacture, cleanup and disposal of PCBs. EPA Source for More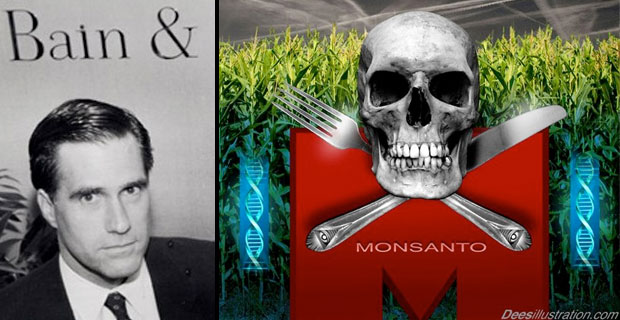 One year before Mitt Romney began working on the Bain & Company project to rebuild "Monsanto" and cast their new image and focus on agriculture biotechnology, Congress passed a bill banning PCB (polychlorinated biphenyl), an odorless, tasteless, clear liquid known to cause cancer that was the "bread and butter" of Monsanto's profits. Monsanto was already branded and plagued with the label of having created the "Agent Orange" contaminated dioxins used in Vietnam. Now Monsanto would need a big save, financially and reputation-wise, so they could fool the public with their new image and a new "frontier," while secretly polluting and genetically modifying American agriculture with the new faceless poison known as Roundup.
Romney knew his first job at Bain was to propel an evil company that was on the brink of failure. He knew Monsanto's previous reputation and about all the litigation. Romney also knew he would be rewarded financially in the biggest way if he could pull the whole thing off, and he did. Romney changed Monsanto's image over the years, from a scandal ridden chemical giant to a seemingly "prestigious" Agri-business firm. (http://dprogram.net)
Fresh out of Harvard in 1977, Romney basically lead Monsanto down an unethical but highly lucrative path, helping sweep the PCB and dioxin scandals under the rug, since that negative public perception was crippling the company.
In August 1985, Monsanto purchased G. D. Searle, the "NutraSweet" firm. NutraSweet, an artificial sweetener, had generated $700 million in sales that year, and Searle could offer Monsanto an experienced marketing and a sales staff as well as real profit potential - not to mention the fact that Searle's CEO Secretary of Defense Donald Rumsfeld was well-connected among a cabal of corrupt politicians in Washington DC. Since the late 1970s the company had sold nearly 60 low-margin businesses and, with two important agriculture product patents expiring in 1988, a major new cash source was more than welcome. What Monsanto didn't count on, however, was the controversy surrounding Searle's intrauterinebirth control device called the Copper-7.
Soon after the acquisition, disclosures about hundreds of lawsuits over Searle's IUD surfaced and turned Monsanto's takeover into a public relations disaster. The disclosures, which inevitably led to comparisons with those about A. H. Robins, the Dalkan Shield manufacturer that eventually declared Chapter 11 bankruptcy, raised questions as to how carefully Monsanto management had considered the acquisition. In early 1986 Searle discontinued IUD sales in the United States. By 1988 Monsanto's new subsidiary faced an estimated 500 lawsuits against the Copper-7 IUD. As the parent company, Monsanto was well insulated from its subsidiary's liabilities by the legal "corporate veil".
Toward the end of the 1980s, Monsanto faced continued challenges from a variety of sources, including government and public concern over hazardous wastes, fuel and feedstock costs, and import competition. At the end of the 99th Congress, then President Ronald Reagan signed a $8.5 billion, five-year cleanup superfund reauthorization act. Built into the financing was a surcharge on the chemical industry created through the tax reform bill. Biotechnology regulations were just being formulated, and Monsanto, which already had types of genetically engineered bacteria ready for testing, was poised to be an active participant in the GMO biotech field.
In keeping with its strategy to become a leader in the health field, Monsanto and the Washington University Medical School entered into a five-year research contract in 1984. Two-thirds of the research was to be directed into areas with obviously commercial applications, while one-third of the research was to be devoted to theoretical work. One particularly promising discovery involved the application of the bovine growth factor, MARKETED as a way to greatlyincrease milk production.
In the burgeoning low-calorie sweetener market, challengers to NutraSweet were putting pressure on Monsanto. Pfizer Inc., a pharmaceutical company, was preparing to market its product, called alitame, which it claimed was far sweeter than NutraSweet and better suited for baking.
In an interview with Business Week, senior vice-president for research and development Howard Schneidermancommented, "To maintain our markets - and not become another steel industry - we must spend on research and development." Monsanto, which has committed 8% of its operating budget to research and development, far above the industry average, hoped to emerge in the 1990s as one of the leaders in the fields of biotechnology and pharmaceuticalsthat are only now emerging from their nascent stage.
By the end of the 1980s, Monsanto had restructured itself and become a producer of specialty chemicals, with a focus on biotechnology products. Monsanto enjoyed consecutive record years in 1988 and 1989 - sales were $8.3 billion and $8.7 billion, respectively. In 1988 the Food and Drug Administration (FDA) approved Cytotec, a drug that prevents gastric ulcers in high-risk cases. Sales of Cytotec in the United States reached $39 million in 1989.
The Monsanto Chemical Co. unit prospered with products like Saflex, a type of nylon carpet fiber. The NutraSweet Company held its own in 1989, contributing $180 million in earnings, with growth in the carbonated beverage segment (which Monsanto originated from since 1901 seed money from Coca-Cola to produce carcinogenic Saccharin). Almost 500 new products containing NutraSweet were introduced in 1989, for a total of 3,000 products.
Monsanto continued to invest heavily in research and development, with 7% of sales allotted for R&D. The investment began to pay off when the research and development department developed an all-natural fat substitute called Simplesse. The FDA declared in early 1990 that the Simplesse product was "generally recognized as safe" (GRAS) for use in frozen desserts. That year, the NutraSweet Company introduced Simple Pleasures frozen dairy dessert. Monsanto hoped to see Simplesse used eventually in salad dressings, yogurt, and mayonnaise.
Despite these successes, Monsanto remained frustrated by delays in obtaining FDA approval for bovine somatotropin (BST), a hormore chemical MARKETED to increase milk production in cows that causes mastitis (pus milk). Opponents toBST said it would upset the balance of supply and demand for milk, but Monsanto countered that BST would provide high-quality food supplies to consumers worldwide.
The final year of the 1980s also marked Monsanto's listing for the first time on the Tokyo Stock Exchange. Monsanto officials expected the listing to improve opportunities for licensing and joint venture agreements.
see source for more
edit added the below picture 11/01/12