If you're so inclined, you can now peer into the inner-workings of government exchanges, including gifts, which would be as seemingly insignificant as
cookies
or
bath salts
. Or, you can peruse the following:
food inspections
,
overtime expenditures
,
salaries of every city employee
,
building permits
,
building violations
, and
ridership numbers for trains
and
buses
, among other things.
And headlines confirm the trend's continuing. Last month, Chicago won a $1-million prize from Bloomberg Philanthropies to help build a "real-time analytics platform."
According to a statement released by the city, the project will create the "SmartData Platform," a tool that aims to provide City Hall the ability to analyze millions of lines of data in real-time, to make "smarter, earlier decisions to address a wide range of urban challenges."
All this indicates a city deepening its commitment to what's called "Big Data," as well as another term that's bandied about:
Gov. 2.0
.
The movement's got friends in Mayor Rahm Emanuel and some aldermen, but — as with nearly all Chicago political trends — there are community groups pushing the agenda, too. And you can meet these folks yourself, at least if you don't mind sitting through tech banter and jazzed-up Power Point slides.
The 'hoodies' in Chicago's volunteer data army MORE
By Ramsin Canon

When

Seth Lavin

asks questions, he gets answers. Lavin is a local teacher, parent, and education observer, and briefly published a newsletter following Chicago education news. He's a thoughtful man who has recently been active in the school closure process — or, "process" — surrounding Brentano School in Logan Square. Frustrated with the Chicago Public Schools' posture during the closures, Lavin recently posted 10 questions to Twitter meant to question CPS's assertion that its school closure process and the related charterification was purely data-motivated (what I and others would refer to as "technocratic").

CPS

felt the need to respond

to Lavin's thoughtful questions. Their responses are forceful, but hardly get to Lavin's essential point: if school closures don't really save money, if the past closures haven't improved outcomes for children, and if the main criteria for closing schools, "underutilization," doesn't itself harm student outcomes, why is CPS causing these communities so much pain, ignoring the outrage in the community, and undermining community schools?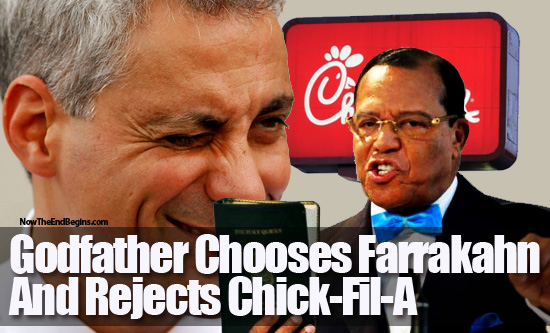 Chicago mayor Emanuel enlists
Farrakhan in fight against crime
NEW YORK (JTA) —
Chicago Mayor Rahm Emanuel welcomed the help of Nation of Islam leader Louis Farrakhan to help stop the violence in Chicago neighborhoods.
Farrakhan has a history of making anti-Semitic statements. In welcoming Farrakhan's help, Emanuel said Wednesday that he was more concerned with reducing a 40 percent surge in Chicago homicides.
"People of faith have a role to play and community leaders have a role to play in helping to protect our neighborhoods and our citizens," said Emanuel, the first elected Jewish mayor of the city. "You cannot get there on just one piece of an anti-crime strategy."
For the past two Mondays, Farrakhan has dispatched hundreds of
"Fruit of Islam"
members on patrols in city neighborhoods in the city. Farrakhan ordered the show of force in response to last month's murder of 7-year old Heaven Sutton, the Chicago Sun Times reported.
Last night's pool reportage, by the New York Times's Jackie Calmes, described a standoff between Secret Service and Louis Farrakhan's security force, the Fruit of Islam, as Obama watched hockey at the home of a friend who lives across the street from Farrakhan.

The standoff was reportedly resolved when someone identifying himself as "Rev. Gary Hunter, a Baptist minister in Motown who writes and blogs for the Detroit Times" — I can't find a trace of him on the Web, and the there's no such paper as the Detroit Times, though the alt-weekly is the Metro Times — saw a pool report and called Farrakhan to intervene.

The Sun-Times says

the pool has held in the spot before without incident.

The narrative, per Calmes' four pool reports:



Chicago Alderman Debra Silverstein, an Orthodox Jew, said it's good that Farrakhan is "helping" in the fight against crime, "but it doesn't eradicate the comments that he's made about the Jewish community," according to the Chicago Sun-Times.
Short URL: http://www.newsnet14.com/?p=122878