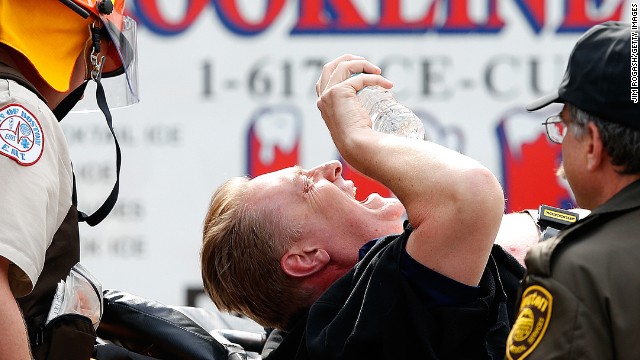 Chairman McCaul Statement at Hearing on Boston Marathon Bombings
Chairman McCaul: The attacks in Boston shook this nation, and brought back memories of that day in September, 2001, that changed our lives forever. I am confident that we will emerge from this tragedy stronger than ever before. Anyone who thinks they can execute an attack on this country and change our way of life, greatly underestimates our spirit and our resolve.
It is the responsibility of this committee to provide oversight and investigate what happened, what went wrong and what we can do to better protect American lives. The victims and their families deserve no less.
We will never forget April 15th. But we must do more than remember, we must hold accountable those who did us harm, as well as the terrorists who inspired them. We must also demand more than just answers for any mistakes made. We must find solutions so that it does not happen again.
In the chaos following the blasts, the American people, including myself, were amazed at the courage of first responders and civilians who ran towards the explosion, instead of away. These men and women motivate us all to pick up the pieces and move forward.
Commissioner, we applaud you, as well as the first responders and law enforcement officials who risked their lives to save others. We owe all of you a debt of gratitude.
In order to move forward, today we look back. The families who lost loved ones, and the over 260 wounded deserve answers about how this happened, and what can be improved in the future. Almost three weeks after the smoke cleared on Boylston Street, many questions remain.
What we know today is that radical Islamists still threaten our homeland. While we don't know if this attack was foreign-directed, we certainly know it was foreign-inspired. Tamerlan Tsarnaev's trip to the Chechen region; the radical videos proclaiming the Caliphate that he posted when he returned; and the type of bombs he and his younger brother used, all signal an al Qaeda-inspired terrorist attack.
While mystery continues to surround what happened on the older brother's trip to Dagestan, much can be drawn from what we know about the region. Many Chechen rebels have forged a bond with the al Qaeda jihadist movement. These lethal warriors have fought side-by-side with al Qaeda and the Taliban against U.S. soldiers in Afghanistan and Iraq. In fact, my constituent's son, Marine Sergeant Byron Norwood, was killed by nine Chechen rebels in Iraq.
Hearing Confirms Information Not Shared with Boston Police Prior to Marathon Bombings
At a hearing today examining the Boston Marathon Bombings, Boston Police Commissioner Ed Davis, Massachusetts DHS Undersecretary Kurt Schwartz and former U.S. Senator Joseph Lieberman examined the lack of information sharing about Tamerlan Tsarnaev between federal, state and local authorities prior to the April 15 terrorist attack:
Chairman McCaul: Before the bombing, were you aware that based on this Russian intelligence, that the FBI opened an investigation into Tamerlan?
Commissioner Davis: We were not aware of that.
Chairman McCaul: Would you have liked to have known about that?
Commissioner Davis: Yes.
Chairman McCaul: If you knew of a Russian intelligence warning that this man was an extremist that may travel overseas. And the fact that he did travel overseas, and came back into the United States. Would that have caused you to give this individual an second look?
Commissioner Davis: Absolutely.
Chairman McCaul: Undersecretary Schwartz, the Department of Homeland Security funds these fusion centers. Was the fusion center given any of this information that I just asked the Commissioner?
Undersecretary Schwartz
: Like the Boston Police Department, the state police through the Commonwealth fusion center, has I believe seven troopers assigned on a full time basis to the JTTF. My understanding is that at no time prior to the bombings, did any member of the Massachusetts State Police or the Fusion Center have any information or knowledge about the Tsarnaev brothers. >>>MORE<<<
Short URL: http://www.newsnet14.com/?p=124069