Muslims are taking over France and becoming an occupying force, despite ban on street prayer; will France throw Le Pen to the rabid dogs?
In France, far right seizes on Muslim street prayers
January 17, 2011
A call to prayer goes up from a loudspeaker perched on the hood of a car, and all at once hundreds of Muslim worshippers touch their foreheads to the ground, forming a sea of backs down the road. The scene is taking place not in downtown Cairo, but on a busy market street in northern Paris, a short walk from the Sacre Coeur basilica. To locals, it's old news: some have been praying on the street, rain or shine, for decades.

But for Marine Le Pen — tipped to take over from her father this weekend as leader of the far-right National Front party — it is proof that Muslims are taking over France and becoming an occupying force, according to remarks she made last month.

Her comments caused a furore as she seized on the street prayers to drive home the idea that Islam is threatening the values of a secular country where anxiety over the role of Muslims in society has deepened in the past few years.

More than two thirds of French and German people now consider the integration of Muslims into their societies a failure, pollster IFOP said in a survey published on Jan. 5. In France, where Islam is the second-largest religion after Catholicism, 42 percent saw it as a threat to national identity.

>>MORE<
Paris Seeks Out New Prayer Spaces for Muslims
2011/07/09
(Ahlul Bayt News Agency) – A huge hangar, owned by the Ministry of Defence located near Porte des Poissonniers, in the 18th arrondissement of Paris, could well become a new place of Muslim worship in Paris.
In an attempt to allieviate the problem of prayer in the streets, the City of Paris is seeking ways of finding more prayer space without violating a 1905 law against the government supporting religions.
Insufficient number of places in the mosques of Paris has led the police headquarters in Paris to search for suitable premises. They identified the site in the 18th arrondissement as able to satisfy the needs of Muslims who pray every Friday at the Myrha Street mosque and the Polonceau Street mosque, both which have an overflow problem.
Daniel Vaillant, the Socialist mayor of the 18th district, assured that the move is being made to "solve the problem of street prayers." >>MORE<<
France Bans Muslim Street Prayers
September 20, 2011
The French government has enacted a new law prohibiting Muslims from praying in the streets, but on the first day of the ban

hundreds of Muslims defied the law

by taking over streets and sidewalks in Paris and other French cities to pray.

The ban, which took effect on September 16, is the government's response to growing public anger in France over the phenomenon of Muslim street prayers.

Every Friday, thousands of Muslims from Paris to Marseille and elsewhere close off streets and sidewalks (by doing so, they close down local businesses and trap non-Muslim residents in their homes and offices) to accommodate overflowing crowds for midday prayers. Some mosques have also begun broadcasting sermons and

chants of "Allahu Akbar" via loudspeakers

in the streets.

The weekly spectacles, which have been documented by dozens of videos posted on Youtube.com (

here

,

here

,

here

,

here

,

here

,

here

,

here

and

here

), have provoked a mixture of anger, frustration and disbelief. But despite public complaints, local authorities have until now declined to intervene, largely because they have been afraid of sparking riots.

The issue of illegal street prayers was catapulted to the top of the French national political agenda in December 2010, when Marine Le Pen, the charismatic new leader of the far-right National Front party, denounced them as an "

occupation without tanks or soldiers

."

During a gathering in the east central French city of Lyon on December 10, Le Pen

compared Muslims praying in the streets to Nazi occupation

. She said: "For those who want to talk a lot about World War II, if it is about occupation, then we could also talk about it [Muslim prayers in the streets], because that is occupation of territory. It is an occupation of sections of the territory, of districts in which religious laws apply. It is an occupation. There are of course no tanks, there are no soldiers but it is nevertheless an occupation and it weighs heavily on local residents."

>>MORE<<



Muslims caught praying on the streets of Paris face arrest in tough new law
29 September 2011
Muslims caught praying on the streets of Paris face police action after a new law was introduced.

The radical move, which has infuriated many, followed complaints about hundreds of men lying prostate on roads and alleyways of the French capital.

A lack of mosques is being blamed but the government said the practice had to stop.

French Interior Minister Claude Gueant said praying in the streets 'hurt the sensitivities of many of our fellow citizens'.

Mr Guent, a right-winger who wants to uphold the secular nature of the French Republic, said the legislation would be extended to other major cities where 'the problem persists'.

These include places like Lyon and Marseilles, where thousands of France's five million-strong Muslim community live.

>>MORE<<






Marine Le Pen calls for ban on Muslim and Jewish headwear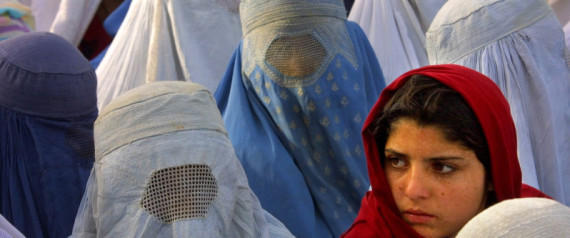 23 SEPTEMBER 2012
French far-right leader Marine Le Pen called Friday for a ban on wearing

Muslim veils and Jewish skullcaps

in public, adding to religious tensions sparked by cartoons of the Prophet Mohammed.

In an

interview

with the

Le Monde

newspaper, Le Pen called for religious headwear to be banned "in stores, on public transport and on the streets".

Asked if the ban should apply to the Jewish skullcap, known as the kippah or yarmulke, as well as Muslim headwear, she said: "It is obvious that if the veil is banned, the kippah is banned in public as well."




Le Pen, who shocked the French elite by winning almost 18 percent in the first round of this year's presidential vote, also repeated calls for bans on public prayers, kosher and halal foods in schools and foreign government financing of mosques in France.

President Francois Hollande denounced her comments, saying: "Everything that tears people apart, opposes them and divides them is inappropriate and we must apply the rules, the only rules that we know, the rules of the Republic and secularism."

>>MORE<<
The EU may lift controversial Marie Le Pen's parliamentary immunity for comparing illegal Muslim street prayers to 'occupation.'
Mon, June 3, 2013
The comments sparked outrage in the French press at the time. In response, Le Pen said that she was not specifically referring to the Nazi occupation.

The decision to lift Le Pen's parliamentary immunity followed a request by French Justice Minister Christiane Taubira, who has been trying to charge Le Pen with inciting religious hatred since the speech. As a member of the European Parliament, Le Pen had been protected from prosecution for the comments she made.Marine Le Pen

became the leader of the National Front party in January 2011

after succeeding her father Jean-Marie Le Pen, who founded the party and was convicted a number of times for racism and anti-Semitism. Ironically, some of the founding members of the party had been Nazi collaborators.

>>MORE<<





Short URL: http://www.newsnet14.com/?p=125852