hmmmmm. . . America has gotta love how the Federal Reserve and Banks; are playing 'Pretty Woman' with our lives and I'm not talking the Cinderella way!
I use this 'Pretty Woman' scene as a reference, because I am no financial expert and don't pretend to be, it pretty much summed it up best? That is exactly what I thought of when I heard them talking about what they are doing the same thing last week was Richard Gere's character in Pretty Woman does;
I know it will seem pretty stupid, but that is exactly what the Federal Reserve, Banks, and Wall Street are doing. shera~
In The Buyout of America
, Josh Kosman, a financial journalist at The New York Post, believes he has found the cause of the next financial crisis – billions of dollars worth of high yield bonds that come due around 2013-2014. Whilst it is hard to believe that you can set your watch for the next financial crisis, the impact of private equity on the global economy is a hot topic in the UK right now, following the recent fortunes of Cadbury and Manchester United.
Private equity (or PE) refers to the practise of buying private companies (whose shares are not traded on the exchanges) or to buying publicly listed companies and taking them private. PE firms raise funds primarily from institutional investors, endowments, pension funds, or very rich individuals. Once a fund has been raised, it usually takes five to ten years for the investors get all of their money back. Private equity firms often buy mature companies using a technique referred to as a leveraged buyout.
It is this practice that Kosman most objects to. He believes that this type of financing makes it difficult for businesses to survive in the long run. When a private equity firm embarks on a leveraged buyout, they typically borrow up to 85 per cent (and sometimes more) of the purchase price from banks. This debt is transferred onto the balance sheet of the acquired company. The company's profits are then used to pay the interest and principle on the debt. Because this can be a risky proposition, the banks can transform their loans to the company into high-yield bonds, sometimes called junk bonds.
The Leveraged Buyout of America
By Ellen Brown
August 26, 2013 "
Information Clearing House
-
Giant bank holding companies now own airports, toll roads, and ports; control power plants; and store and hoard vast quantities of commodities of all sorts. They are systematically buying up or gaining control of the essential lifelines of the economy. How have they pulled this off, and where have they gotten the money?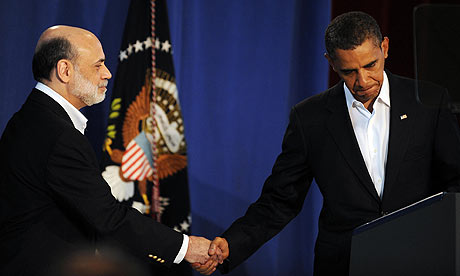 Can I get a Moment of Silence While We Destroy The USA,
In a letter
to Federal Reserve Chairman Ben Bernanke dated June 27, 2013, US Representative Alan Grayson and three co-signers expressed concern about the expansion of large banks into what have traditionally been non-financial commercial spheres. Specifically:
[W]e are concerned about how large banks have recently expanded their businesses into such fields as electric power production, oil refining and distribution, owning and operating of public assets such as ports and airports, and even uranium mining.
After listing some disturbing examples, they observed:
According to legal scholar Saule Omarova, over the past five years, there has been a "quiet transformation of U.S. financial holding companies." These financial services companies have become global merchants that seek to extract rent from any commercial or financial business activity within their reach. They have used legal authority in Graham-Leach-Bliley to subvert the "foundational principle of separation of banking from commerce". . . .

It seems like there is a significant macro-economic risk in having a massive entity like, say JP Morgan, both issuing credit cards and mortgages, managing municipal bond offerings, selling gasoline and electric power, running large oil tankers, trading derivatives, and owning and operating airports, in multiple countries.