Sir David Attenborough warns against large families and predicts things will only get worse. So STOP IT; Third World Countries
Sir David Attenborough
has said that he is not optimistic about the future and that people should be persuaded against having large families.
The broadcaster and naturalist, who earlier this year described humans as
"a plague on Earth"
, also said he believed humans have stopped evolving physically and genetically because of birth control and abortion, but that cultural
evolution
is proceeding "with extraordinary swiftness".
"We stopped natural selection as soon as we started being able to rear 90-95% of our babies that are born. We are the only species to have put a halt to natural selection, of its own free will, as it were," he tells this week's Radio Times.
"Stopping natural selection is not as important, or depressing, as it might sound – because our evolution is now cultural … We can inherit a knowledge of computers or television, electronics, aeroplanes and so on."
Attenborough said he was not optimistic about the future and "things are going to get worse".
"I don't think we are going to become extinct. We're very clever and extremely resourceful – and we will find ways of preserving ourselves, of that I'm sure. But whether our lives will be as rich as they are now is another question.
"We may reduce in numbers; that would actually be a help, though the chances of it happening within the next century is very small. I should think it's impossible, in fact."
The ten countries with the largest population in the world are
China, India, United States, Indonesia, Brazil, Pakistan,
Bangladesh, Nigeria, Russia and Japan.
Africa, Population
Makes you say WHAT and Why Isn't AFRICA LISTED?
TOP TEN COUNTRIES WITH THE HIGHEST POPULATION

#

Country

2000
Population
2010
Population
2012
Population
2050
Expected Pop.

1

China

1,330,141,295

1,343,239,923

1,303,723,332

2

India

1,173,108,018

1,205,073,612

1,656,553,632

3

United States

313,847,465

4

Indonesia

248,645,008

5

Brazil

193,946,886

6

Pakistan

184,404,791

190,291,129

276,428,758

7

Nigeria

170,123,740

8

Bangladesh

156,118,464

161,083,804

233,587,279

9

Russia

142,517,670

10

Japan

126,804,433

127,368,088

93,673,826

TOP TEN Countries

4,016,489,082

4,096,137,325

4,950,140,178

Rest of the World

2,921,709,597

TOTAL World Population

7,017,846,922

NOTES: (1) The Top 10 Most Populated Countries of the World Table was updated for June 30, 2012. (2) Detailed data for individual countries may be found clicking on each country name. (3) Demographic (population) estimates for years 2000, 2010, 2012 and 2050 are based mainly on mid-year data from the

US Census Bureau

website. (4) The China population data is for the mainland only. (5) Data from the Internet World Stats website may be cited, giving the due credit and establishing an active link back to

Internet World Stats

. (6) For definitions, navigation help and methodology, see the

Site Surfing Guide

. Copyright © 2001 - 2013, Miniwatts Marketing Group. All rights reserved worldwide.
Crowded planet: Global population hits 7 billion + Africa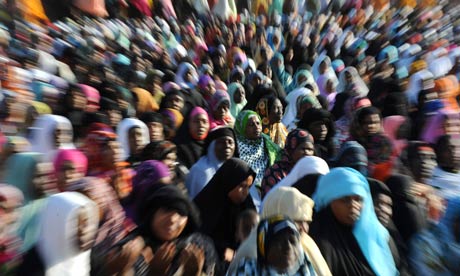 Food security

Evan Vucci,The Associated Press

U.S. President Barack Obama looks at rice crops during a food security expo Friday in Dakar, Senegal. Africa's population is expected to grow to 4.1 billion by 2100 from 1.1 billion today.

The news on the population front sounds bad: birth rates are not dropping as fast as expected, and we are likely to end up with an even bigger world population by the end of the century.