$500 Million in Aid Also to Go to Palestinian Authority
by Jason Ditz, December 18, 2009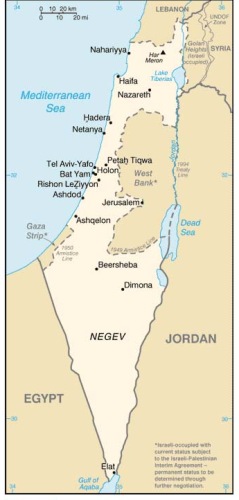 Last year, Israel's
military budget amounted to $13.3 billion,
so the US funding is a significant portion of their overall expenditure. The US formerly provided both military and civilian aid, but it has since been folded entirely into military aid, at Israel's request.
The money is not a blank check, however. The US requires that Israel spend at least 75% of the money given in military aid with US military contractors, effectively using the foreign aid budget to subsidize domestic weapon-makers.
>>more<<
Alison WeirDecember 13, 2013 It's been a great week for Israel in the US Congress this week. But not for the American taxpayer.
While many Americans are gearing up for the Christmas holidays and trying to earn the money to buy their children presents, and while the number of Americans applying for unemployment benefits surged, Congress voted yet more money to Israel.
It also passed two other measures pushed by the Israel lobby. Almost none of this was reported by US mainstream media.
The budget committees of both the Senate and the House released a budget on December 10thincluded $284 million for U.S.–Israeli "joint defense" – in fact, primarily for defense systems in Israel. These defense systems are aimed at shielding Israel from perceived threats in the region. For context, rockets from Gaza have killed some 29 Israelis in just over a decade, during which time Israeli forces killed approximately 4,000 Gazans. Congress is virtually assured to pass the budget.
This money is on top of the $3.1 billion in military aid the U.S. gives Israel every year. It is also triple the already-generous $96 million the Obama administration had requested for the programs.
The additional money is specifically to fund weapons systems that in many cases compete with American-made systems, likely costing thousands of American jobs.
Meanwhile, last week saw a surge in first-time applicants for unemployment. The number of people seeking U.S. unemployment benefits rose 68,000 last week to a seasonally adjusted 368,000, the largest increase in more than a year. But since some unemployment benefits are from a special program that is set to expire soon, as many as 2.1 million Americans will lose this assistance by March. MORE

thank you Rob