Seems Like The Gates Foundation Has Control of The World, With The Right People In Their Back Pocket?
Former head of CDC lands lucrative job as president of Merck vaccine division (opinion)
(NaturalNews) You've heard it before, how the pharmaceutical industry has a giant "revolving door" through which corporations and government agencies frequently exchange key employees. That reality was driven home in a huge way today when news broke that Dr. Julie Gerberding, who headed the CDC from 2002 through 2009, landed a top job with Merck, one of the largest drug companies in the world. Her job there? She's the new president of
the vaccine division
.
How convenient. That means the former head of the CDC was very likely cultivating a relationship with Merck all these years, and now comes the big payoff: Heading up a $5 billion division that sells cervical cancer vaccines (like Gardasil), chickenpox vaccines and of course H1N1 swine flu vaccines, too.
The Bill & Melinda Gates foundation launched the
Grand Challenges in Global Health
(GCGH) in partnership with the National Institutes of Health in 2003 which, according to the
GCGH website
, is aimed at "creating new tools that can radically improve health in the developing world." So far, 45 grants totaling $458 million were awarded for research projects involving scientists in over 30 countries.
1
But where has all the money actually gone? Towards developing and implementing water purification and sanitation systems? Or basic nutritional support aimed at optimizing immune function? How about providing shelter and medical facilities for the homeless? Not even close.
For example, a $100K grant was recently disbursed to Seth C. Kalichman, professor at the Department of Psychology, University of Connecticut, for "Establishing an Anti-Vaccine Surveillance and Alert System," which intends to "establish an internet-based global monitoring and rapid alert system for finding, analyzing, and counteracting misinformation communication campaigns regarding vaccines to support global immunization efforts." [emphasis added]
We can only wonder what organizations might be labeled as "misinformation communication campaigns" considering the fact that Bill Gates, in a Feb. 4
th
, 2011 interview on CNN with Sanjay Gupta said that "anti-vaccine groups "
kill children
."" Here is the full quote:
"So it's an absolute lie that has killed thousands of kids. Because the mothers who heard that lie, many of them didn't have their kids take either pertussis or measles vaccine, and their children are dead today. And so the people who go and engage in those anti-vaccine efforts -- you know, they, they kill children. It's a very sad thing, because these vaccines are important."
It is quite possible that any dissenting voice not in support of universal vaccination campaigns may be included in this type of "surveillance and alert system" as a potentially endangering the lives of others, i.e. "killing children." What is so ironic about the situation is that the Gates Foundation supported
Polio Global Eradication Initiative
may have resulted in over
47,500 cases of vaccine-induced paralysis
in Indian children in 2011 alone, and which is twice as deadly as the wild-type polio it claimed to have put an end to officially on Jan. 11 2012. Who here then, is truly concerned about the health of children?
MORE
Excipient Table 2
Michael R. Taylor, J.D., was appointed Deputy Commissioner for Foods. This was announced on the FDA's website the day after the earthquake in Haiti. Michael Taylor is a former top executive, lawyer and lobbyist with biotech giant Monsanto Co. He has rotated in and out of law firms, Monsanto, the USDA and FDA.
During his former stint in the FDA during the Clinton administration he helped write the rules to allow rBGH (Bovine Growth Hormone) into the American food system and our children's milk. Which is perhaps why the FDA staffer who wrote Taylor's bio seems to have all-but-forgotten his decade-plus of Monsanto work. Michael Taylor and Monsanto are responsible for subjecting this country and many others to the increased risk of breast cancer (7 times greater risk), prostate cancer and colon cancer because of what they did to milk, cheese, yogurt, ice cream with rBGH as well as to all the foods that rely on milk solids and other parts of milk.
Salt Deficiency: The Cause Of Many Serious Diseases
An eight-year study of a New York City hypertensive population stratified for sodium intake levels found those on low-salt diets had more than four times as many heart attacks as those on normal-sodium diets – the exact opposite of what the "salt hypothesis" would have predicted. (1995). Dr. Jeffrey R. Cutler documented
no
health outcomes benefits of lower-sodium diets. Both sea salt and rock salt were well known to the ancient Greeks who noted that eating salty food affected basic body functions such as digestion and excretion (urine and stools). This led to salt being used medically. The healing methods of Hippocrates (460 BC) especially made frequent use of salt. Hippocrates mentions inhalation of steam from salt-water. We know today that the antiinflammatory effects of inhaled salt provide relief from respiratory symptoms (c). Thus, 2000 years ago, Greek medicine had already discovered topical use of salt for skin lesions, drinking salty or mineralized waters for digestive troubles and inhaling salt for respiratory diseases! .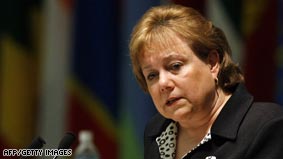 Ann Veneman Named New USDA Secretary
emphasizes "Free Trade" and Genetic Engineering
by Al Krebs (from Agribusiness Examiner Issue #100)
Ann Veneman, 51,
no stranger to "free trade," genetic engineered crops and
corporate agribusiness, has been named by George W. Bush to be his
administration's new Secretary of Agriculture.
Beginning with the USDA's Foreign Agricultural Service (FAS) in 1986, she
rose to deputy undersecretary for international affairs and commodity
programs. She also was one of the early negotiators of the North American
FreeTrade Agreement (NAFTA) and from 1991 to 1993 served as the deputy
undersecretary which at the time was the highest post at the department
ever held by a woman.
President Obama Announces Intent to Appoint Dr. Sonny Ramaswamy as Director of USDA's National Institute of Food and Agriculture


WASHINGTON, March 9, 2012–President Obama announced today his intent to appoint Dr. Sonny Ramaswamy as Director of the U.S. Department of Agriculture's (USDA) National Institute of Food and Agriculture (NIFA). NIFA links USDA with the land-grant university community, including historically Black colleges and universities, Native American institutions, Hispanic and other universities, and other public and private organizations, to advance research, extension, and higher education in the food and agricultural sciences and related environmental, social, and human sciences. Dr. Ramaswamy is currently Dean of the College of Agricultural Sciences at Oregon State University.