WOW is this another experiment? Cali is NUTS: Illegal immigrants allowed to practice law in California
By Noreen O'Donnell
(Reuters) -
Illegal immigrants can be licensed to practice law in California under one of eight bills expanding immigrant rights that were signed by Governor Jerry Brown on Saturday.
The California Supreme Court, which finalizes requests of applicants to be licensed as a lawyer in California, is now authorized to approve qualified applicants regardless of their immigration status.
Other new laws prohibit law enforcement officials from detaining immigrants based on federal government instructions except in cases of serious crimes or convictions, and make it illegal for employers to retaliate against workers on the basis of their citizenship.
"While Washington waffles on immigration, California's forging ahead," Brown said in a statement. "I'm not waiting."
The new laws, including the one letting undocumented immigrants become lawyers, could set a precedent for the nation. They are part of a push to increase immigrant rights in the strongly Democratic state. About 38 percent of California's population of 38 million is of Hispanic descent.
On Thursday, Brown signed a law making undocumented immigrants eligible to apply for drivers licenses. California, which will join at least nine other states when the law takes effect in 2015, expects 1.4 million people to apply for licenses over three years.
A study by the University of Southern California has found that more than 2.6 million people, most of them Latinos, lack legal status in the state.
Assemblyman Luis Alejo, a Democrat from Watsonville, said the new laws illustrate the change in California over the last 20 years. thank you Mr. Blade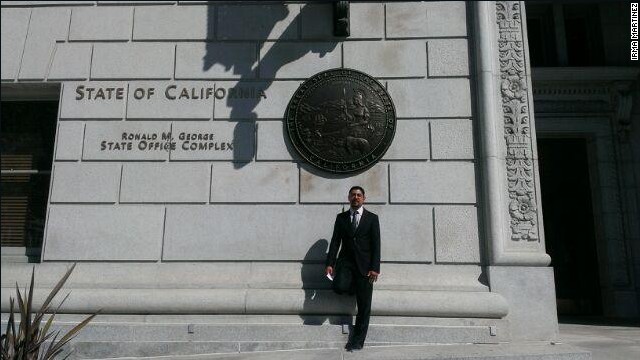 (CNN) --
Since I first became aware of the maddening case of 36-year-old Sergio Garcia, who seeks admission to the California Bar, I've tried to convince myself this accomplished young man -- a law school graduate who passed the bar exam -- should be able to practice law despite the inconvenient fact that he is an undocumented immigrant.
Yet, I can't. My heart goes out to Garcia. But my head won't go along.
This week, the California Supreme Court held a hearing to decide whether Garcia is eligible for a law license in California in a case that is certain to impact the fate of other undocumented immigrants in pursuit of legal careers.
Garcia is opposed by the Obama administration's Justice Department, which cites a 1996 law that prohibits states from providing undocumented immigrants with public benefits, including professional licenses. He is supported by California Attorney General Kamala Harris, who argues the issuance of law licenses isn't a federal matter but up to states to decide.